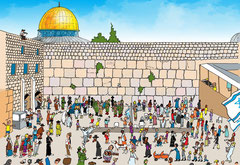 This book is intended for children aged three to twelve and as a souvenir of important sites in Jerusalem. We present the sites of Jerusalem and its people by way of detailed illustrations, some of which include Jerusalem and Israeli historical figures, in order to educate youngsters about the history of Jerusalem in a fun and interesting way.
The closer the illustrations are examined, the more characters and vignettes are revealed. Smaller children will be happy to find Balak the dog (from the story "Only Yesterday" by Shai Agnon, a dog that roams the streets of Jerusalem, who was referred to as "Mad Dog"), the Tour Guide (who is represented by an illustration of me, with a long braid) and the illustrator, Jacky. Older children will discover the finer details.
The multi-layered illustrations and the characters that appear in them are the "meat" of the book. The texts which appear near the illustrations provide basic information about the sites and provide the parent and the child with food for thought. The book will be translated into different languages for tourists from around the world.
See you in Jerusalem,
Isabelle Cohen, tour guide in Israel
Find me in Jerusalem
Children book
English/ Hebreu
reste des livres
10 a 15 jours1